You Can Apply—Can You Do A Job You're Underqualified For?
Maybe it's a lack of jobs you are fully qualified for.
Maybe it's just one gig at a company you're dying to work for that you're not quite experienced enough to do, but can't bring yourself to pass up.
Should you go for it with a role that's out of your league?
Well, there's not too much to lose if you don't get the job. It's getting an interview—or maybe, just maybe, landing the job—that could throw you into a tailspin.
So, are you ready for it?
Here are a few questions to ask yourself before hitting "Apply":
1. Do you actually want to do the job?
Sometimes, we focus more on the glamorous title or getting our foot in the door at a company than do on the actual responsibilities of a role. Be sure, before you get in over your…
2. Can you make a compelling case for your ability to learn? For the indispensable skills you've already got down?
It's a good thing to tell a company you can—and fully intend to—grow with them. But you'll need to have justifiable evidence that you've learned on the job before, and quickly. You'll want to make a quick and strong…
3. Can you handle having to prove yourself all the time?
Even if you make it through the first round of interviews, you'll likely encounter some pushback in your next steps. Or on the job, from your new coworkers. It's going to take a lot of…
You Don't Have to Work on Wall Street to Work on Wall Street
To many people, the phrase "Wall Street" conjures a young Michael Douglas, hair slicked-back, red suspenders over his shoulders, manicured fingernails curled around a microphone, standing at the head of a classroom filled with eager MBA students as the words "Greed is good" proudly spews forth from between devil-red lips. To others, it conjures a line of imposing skyscrapers inside of which clean-shaven men in blue and gray Italian wool lean back, place their feet on desks, and speak into headsets at very high decibels while punching numbers into keyboards as flatscreens conspiratorially blink back at them. And perhaps to others it brings to mind smug gray-haired men in brightly colored ties seated behind oak desks in front of aging elected officials, smirking as they field inquiry after inquiry about alleged misdeeds, dollar signs forming behind ice-cold blue eyes.
These images, however Hollywood, cartoonish, and tabloid-esque they might be, do tell part of the story about what it's like to work on Wall Street. But just a part of it. A small part. Which is to say there are a lot more sides to "working on Wall Street" than Gordon Gekkos, ravenous traders, and unrepentant CEOs. And, to that end, working on Wall Street often means not working on Wall Street at all. Working on Wall Street could mean working in the Windy City. It could also mean working in San Francisco, or Houston, or Dallas, Los Angeles, Atlanta, or Washington, D.C. It could also mean not working all-nighters five days a week. Not working with sharp-elbowed men and women. Not working around the clock while getting…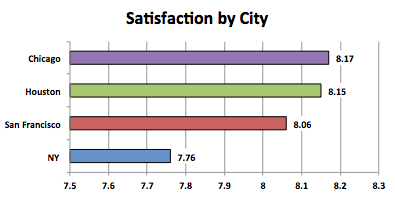 As you can see in the above, banking professionals in Chicago, Houston, and San Francisco are much more satisfied overall with their jobs than their counterparts in New York. According to one very pleased Chicago banker, "The culture is humane, the people are pleasant, and the quality of the work is top notch. A**holes, ranters, and ravers need not apply." 
Perhaps surprisingly, Houston ranks lower than New York with respect to satisfaction with number of hours worked. Meanwhile, Chicago and San Franciso professionals are much more happy about the amount they work each week. Here's a Chicago-based banker talking about hours: "I work long hours, which are to be expected in banking, but what is not typical is the amount of work able to be done from home. I have two kids and so evenings are important for me to be with them, so I'm able to get home, eat dinner with my family, put my kids to bed, then log back on from home to keep working. I do this at least a couple nights a week." In San Francicso, a banker has this to say: "There's no expectation of weekend work. We do work weekends when required, but it's not a given."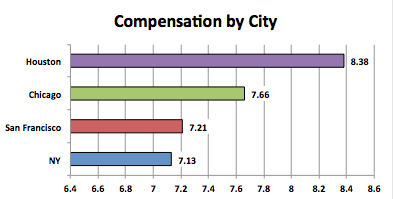 It looks like it pays to work in Houston. Here's what bankers and traders there have to say when it comes to satisfaction with respect to comp: "We consistenly pay at the top of the Street in salary and bonus." "My firm is very generous when it comes to compensating entry-level positions; the bonuses have been great so far, and the insurance benefits are great." "Very competitive salary, at higher levels than competitors." "Analyst monetary compensation is above the rest of banks in Houston and paid all in cash."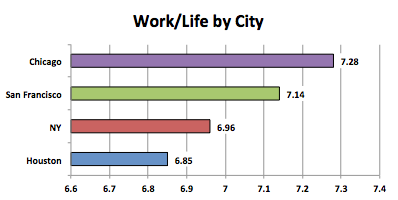 If you work in corporate finance, M&A, restructuring, or one of the many other investment banking groups outside of sales and trading and research, hours will be long no matter for which bank you join, and no matter in which city you work. However, some banks in some locations look more kindly upon outside, personal commitments. Here's a banker in Chicago on his work/life balance: "This is investment banking, and everyone knows the reality of what that means for work/life balance and quality of life (or lack therof). That said, if you have an event or important appointment outside of work and no deliverables are due, you can usually leave early with the expectation that you finish your work on an appropriate timeline."
A San Francisco-based professional who works for a bulge-bracket bank presents a similar sentiment: "Going into investment banking, no one would expect to have a significant amount of free time outside the office. However, the firm has taken great strides to promote a work/life balance at the junior level, including avoiding new staffings towards the end of the week and monitoring the distribution of work across the group. The staffers seem to have a good feel of where individual capacities stand."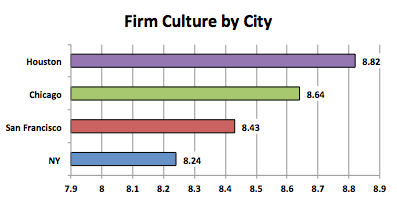 Those who work in Houston are much more satisfied with their firms' cultures than their counterparts in other cities. According to a young Texas-based banker, "Everyone takes an interest in your development. It's an easy environment that encourages questions. The firm likes to promote from within." Another Space City banker says, "I've had an unbelievable experience thus far. I've worked a tremendous amount, but also have learned more than imaginable."
Of course, all this doesn't mean that you can't find incredible satisfaction in all of these areas and more if you work on Wall Street, both literally and metaphorically. But it certainly underscores the fact that life as a banker doesn't have to mean life as a New York City banker.
For all the results of our latest Banking Survey, check back the week after Labor Day, when we'll be releasing our annual Prestige Rankings, a ranking of the 50 most prestigious firms in investment banking, and the Vault Banking 50, a ranking of the banking firms deemed the best to work for.
Follow me @vaultfinance.
Which Law Firms Offer the Best Summer Associate Programs?
Just in time for early interviews, Vault has released its third annual Law Firm Summer Associate Program Rankings.
As part of our Associate Survey earlier this year, Vault asked first- through third-year associates who had worked as summer associates at their current firms to rate the program both in terms of how well it prepared them for full-time practice and how much fun they had. The average of these two scores determined which firms ranked on our Best Overall Summer Associate Programs list.
Among our highest-rated summer programs are those that manage to provide both a realistic depiction of associate life and engaging social opportunities, so that summer associates not only develop an accurate sense of what lawyers do day to day, but also form valuable bonds with their classmates and others at the firm.
This year, Venable was named the Overall Best Summer Associate Program, while also being rated the firm that best prepares summer associates for practice.
Here are the Top 10 Best Law Firm Summer Associate Programs, along with some comments from former summer associates:
1. Venable: "Venable has an amazing program, whereby it dedicates time and energy to integrating the summer associates into substantive work projects, while making sure that everyone has a good time."

2. Troutman Sanders: "The firm's summer program was excellent, with a clear focus on showing what it is like to be Troutman attorney, but also taking time to have fun."

3. Schiff Hardin: "Couldn't think of a better law firm culture if I was going to start from scratch."

4. Paul Hastings: "Gave a very true perspective of what it was like to be here as an associate, and it was a lot of fun and great way to know both other summer associates and other lawyers."

5. Bingham McCutchen: "The summer associate program provides fun social events but also gives summers the opportunity to engage in substantive work that mirrors the type of work that full-time associates do."

6. Dickstein Shapiro: "A good taste of what the firm culture is like and how it is to work with partners and associates."
On Wall Street You Might Get Vacation, But You Can't Take It
Investment banking analysts and associates notoriously work very long hours. It's not uncommon for a corporate finance analyst at a prestigious bank in New York to regularly work more than 90 hours each week, or for an M&A or restructuring associate to put in more than 80 hours week after week. And it's not even all that unusual for first-year analysts at busy Wall Street firms to log in more than 100 hours in a single week (which means, on average, working more than 14-hour days).
Although these heavy workloads might seem unfair and inhumane (even considering the significant salaries and bonuses junior bankers receive, which, when reduced to hourly wages, aren't all that handsome), most undergraduate and MBA students entering banking know full well what they're getting into; they're well aware that they'll be putting in nearly triple-digit-hour workweeks and that their lives will be largely, if not entirely be spent working. However, what they aren't aware of, in many cases, is that the generous vacation time promised to them before they begin to work might never come to pass—that is, although they officially "get" vacation time, many analysts and associates are unofficially discouraged from taking it.
This past spring, Vault surveyed* more than 3,000 investment banking professionals, asking them to rate and tell us about various quality of life issues, including company culture, working hours, work/life balance, relationships with managers, career development, compensation, and benefits. With respect to benefits, what many respondents told us, among other things, is that although working remotely is increasingly being encouraged, using vacation days isn't.
Here's one bulge-bracket analyst speaking about his workload and supposed vacation allotment: more
5 Interview Questions Investment Banking Interns Need to Nail
Although most investment banks in North America and Europe have already hired their 2013 summer intern classes, banks in Australia are just beginning to accept applications for their latest internship programs, and interviews are on the way. For those interested in an investment banking internship, here are five interview questions every prospective intern should be able to nail.
1. What interests you most about a career in investment banking?
This is one of the most common questions used to assess a candidate's interest in and understanding of the investment banking division. You need to be aware of the key skills and attributes demanded of professionals working in this area and be able to demonstrate examples of how you possess these skills. Be ready to articulate why you think you are a suitable candidate and what qualities you bring to the table. Candidates need to be analytical, detail-orientated, enthusiastic, hard-working and responsible. The use of examples will best illustrate this.
2. What differentiates this company from other companies you are interviewing with?
This question tests to see if you have conducted research about the industry and in particular about the firm you have applied to. As a starting point, visit the company website to learn as much as you can about the firm, its structure, divisions and core values. In terms of researching the industry, make a habit of regularly reading the financial press and keeping up to date with market trends and recent transactions. The key is to demonstrate that you have an interest in and understanding of the financial world beyond what you have learned in class. Researching the firm in this way will demonstrate to your interviewers that you have a genuine interest in the company, which is something that they will be looking for.
3. Which industry or product teams interest you and why?
The 2014 Vault Law 100 Rankings Are Here!
The numbers have been crunched and the results have been tabulated: nearly 17,000 associates took Vault's survey this year, and yes—Wachtell is still number one.
In fact, there was only one change to the top ten this year: Sullivan & Cromwell reclaimed the No. 3 spot it earned in 2011 and 2012 (Skadden briefly stole it away in last year's rankings). Even within the Top 25, no firm moved by more than three spots in either direction—except for litigation powerhouse Boies Schiller & Flexner.
A relative newcomer to the elite firm ranks, Boies, Schiller & Flexner made its debut on the Vault Law 100 in 2001 at a respectable No. 47. In 2011, the firm cracked the Top 25, and this year jumped five spots to make it to the Top 15. One of the nation's premier litigation shops, Boies, Schiller & Flexner was founded by David Boies, Jonathan Schiller and Donald Flexner, former V100 partners from Cravath, Kaye Scholer and Crowell & Moring, respectively. Survey respondents called the firm "cutting-edge" and a "litigation powerhouse," and made frequent mention of its unique compensation model, which they said was the "envy of BigLaw."
Let's take a look at the top fifteen firms for 2014:
Wachtell Lipton Rosen & Katz
Cravath, Swaine & Moore
Sullivan & Cromwell
Skadden, Arps, Slate, Meagher & Flom
Davis Polk & Wardwell
Weil, Gotshal & Manges
Simpson Thacher & Bartlett
Cleary Gottlieb Steen & Hamilton
Kirkland & Ellis
Latham & Watkins
Covington & Burling LLP
Gibson Dunn & Crutcher LLP
Debevoise & Plimpton LLP
Paul, Weiss, Rifkind, Wharton & Garrison LLP
Boies, Schiller & Flexner LLP
Check out the full rankings here: 2014 Vault Law 100
3 Ways to Trouble-Shoot Your Resume
The average resume gets less than 10 seconds in front of a recruiter, before being cast aside—and that's assuming that a recruiter is reading it at all in an age where automated scanning software is increasingly being used to filter applications by keyword search before a human ever sets eyes on them. Here are three ways that you can trouble-shoot some of the most common resume problems.
Beat the machines
Automated filters that scan resumes are the bane of the job-seeker's existence. Worse, they're not even particularly effective in helping companies to find qualified candidates—all they do is limit the amount of candidates a firm will see to those who have the right combination of words on their documents. To ensure that you are among them, be sure to include keywords from the resume—both for personality fit (terms like "enthusiastic" and "organized") as well as for specific skills listed in the requirements. If the ad states that proficiency in a software package is required, you'd better believe that the firm is using the name of that package as a search term—and your name won't come out if it's not on your resume.
Lack of experience
Once it's made it past the robots, the next thing your resume has to do is convince a human that you're worth bringing in for an interview. But how can you do that, if you don't have the requisite experience for the position?
Volunteer jobs are great ways of receiving work experience in a field that you haven't yet been able to break into as a paid employee. The jobs can be listed exactly like regular positions (title, achievement list, dates)—there is no need to indicate that it was a volunteer position on the resume. If you do openly list a volunteer position on your resume, the question may arise of what you used as income during that period. If you're proud of your wage-earning position at that time, and believe it contributes to your job goal, list both, and indicate that your volunteer stint was a "concurrent volunteer position."
If the paying job you had while you performed your volunteer position was basically irrelevant to your career goal, you may, of course, omit it. You may also mention it in your description of your volunteer position, by putting "Concurrent with" and the position and company name of the job. You thus relay that information in an honest manner, while still downplaying its relevance to your job objective.
Age
Age is an issue at every job. Your employer will often have a sense of their ideal candidate's age as well as qualifications. Yes, it's illegal, but nearly inescapable. So what are they afraid of? Well, let's look:
Where's the Love for Working Fathers?
Often forgotten in the conversation about the difficulty of raising children while cultivating a career is the other half of the equation: working fathers. 
Of course, historically, since working fathers have been the primary breadwinners of American families and mothers the primary caregivers, there hasn't been much sympathy for fathers when it comes to helping them achieve a better balance between their work and home lives. However, given that women are now increasingly becoming the primary breadwinners and men are taking a more active role in raising children, there's been a growing emphasis in corporate America to provide better benefits for fathers as well as for mothers. 
And so to find out just how much better, this past April Vault surveyed hundreds of men working in various industries (more than 80 percent of those surveyed were married or partnered men between the ages of 25 and 44). And what we found is that, on average, men are somewhat satisfied, though not terribly overjoyed, with their firms' policies to accommodate working fathers. We also found that there's a fair amount of disparity among industries in the quality and quantity of these policies.
What follows are more of our survey's findings.